Have you ever found yourself needing a sweet treat to feed your adventuring party? Or maybe something tasty to lift your spirits after a particularly challenging battle during a session? Critical Hit Cookies may have just what you're looking for.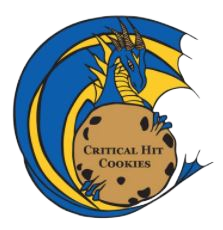 Critical Hit Cookies was born out of a love of both gaming and baking, and owner Karee makes sure all of her customers know that all of her cookies are baked by hand in her own kitchen. After being told by gamers participating in marathon gaming sessions that she should make her baked goods a business, she took the suggestion to heart and Critical Hit Cookies had its stats rolled up and pulled up a chair at the table.
All cookies are made to order in either ½ dozen or 1 dozen quantities. Holiday assortments are available seasonally, but otherwise, you'll have to mix and match your own if you want to try more than one flavor. If an order is received before 3pm, it will ship within 2 business days – ensuring maximum freshness. All cookies are individually wrapped, too, so you know your cookies will still be delicious when they arrive – and this option also makes them great for get-togethers! (Sorry overseas friends: shipping is only available in the US and Canada at this time.)
So far, all flavors we've tried have been fantastic, and the people we know who have tried flavors we haven't have all said the same thing – they're amazing! Baked just right, with comforting flavors that will leave you wanting more. Karee has lots of mouth-watering flavors to choose from, but some that we've tried ourselves are:
Ginger
Chocolate Chip
Chocolate Toffee Espresso
Kit Kat
Espresso Cookies with Toffee and Espresso Chips
Flavors not available at the time of writing:
Pumpkin Chocolate Chip
Chai tea blondies
She has sugar-free options available in two blondies and two cookie flavors, and a gluten free chocolate chip cookie available too! Or, if you are sending a gift to someone and aren't sure which to get, a gift card is a fantastic option.

Luna's vote for best cookie: Ginger. It's soft and chewy, with a good ginger flavor. But really, you can't go wrong with any choice.
Have you tried Critical Hit Cookies? What cookies would you recommend?
Writers did not receive compensation for this review, and this review is not sponsored or endorsed by the reviewee. However, readers can receive 10% off their order of Critical Hit Cookies with code LUNA10 at checkout!