Shadomain is a blog about TTRPGs covering playing, game mastering, creation and streaming.
Contributors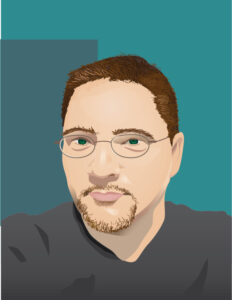 Jason Campbell, Owner & Lead Developer (he/him) is a graphic artist, TTRPG creator and forever GM. He began playing TTRPGs in the 80s and has run games in many different game systems online, in stores and at conventions.
Creations:
Revenge of the Ojeeyell – FREE one page adventure for Cypher System, Fate or Call of Cthulhu.
Slayride! – Christmas one-shot for Cypher System or Fifth Edition
Three Hour Tour to the Island of the Lost – one-shot adventure for the Cypher System inspired by classic sitcoms.
Hint – a classic murder mystery one-shot designed for the Cypher System
Rescue at Sky Keep – a module for new and younger players for Dungeons & Dragons 5th edition
Credits:
Author of a series of articles about teaching RPGs at Kobold Press
Guest at Cypher Unlimited's weekly show
Guest on Chef Byers' Stream
Guest on QEDtalks
You can find Jason at:
http://twitter.com/shadomain
Mastodon: @shadomain@dice.camp
https://www.instagram.com/shadomain/
Discord: JasonC (Shadomain)#6045
https://www.facebook.com/Shadomain
https://www.tumblr.com/blog/shadomain
---
GamerMomLuna, Writer & Community Manager (she/her) is a TTRPG enthusiast, having more than 15 years experience as a player. She has been a TTRPG streamer since 2019, at one point appearing in four weekly streamed and podcasted campaigns simultaneously, and has been producing TTRPG streams since 2020. She was a nominee for the 2022 GameHer's awards for Charity Streamer of the Year and Twitch Streamer of the Year.
Luna also was selected to host a panel at PAX East 2023 with her Tales from the Tavern stream format.
When not playing a TTRPG or writing or talking about TTRPGs, she enjoys video gaming, knitting, photography, taking walks, and spending time with her boyfriend, daughter, and her two cats. She can be found on Twitter @gamermomluna, Mastadon at gamermomluna@gmail.com. Find her on all social media at linktr.ee/gamermomluna.
Tales from the Tavern
Villiangers
The Premium Cookie Tin (DnD or Pathfinder)
Podchaser profile
Handknit Custom Color Dice Bag
---
If you'd like to support our work, donate at Ko-fi.com/shadomain
If you have a subject you'd like us to cover, email us at info@shadomain.com or message us on twitter.