It's Wednesday so it's time for another interview with a member of the TTRPG community! Today we'll hear from Lauren Hottinger (@HottingerLauren / Laurbarian). She's currently working as a cartographer with Lostlorn Games creating fantasy maps for several of their upcoming projects. She's also a commission artist in a variety of different mediums, but mainly painting, hand-inked maps, and digital art. She's also a cast member on two podcasts, "Intelligence Check" (@IntelCheckdnd) and "Warlock!" (@Warlockdnd) and dabble in voice acting. On Twitter, She focuses mainly on dnd inspirations, gardening/crafting posts, art, and mental health discussions.
You can find Lauren on Twitter at @HottingerLauren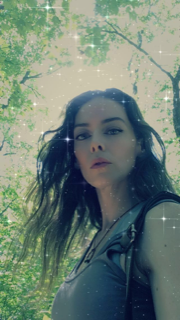 Let's hear what Lauren has to share!
What was the first TTRPG you played?
The first one ever was dnd! After seeing the Community episode, me and my husband knew we needed to try it. 😉
What other hobbies are you interested in?
I'm a huge fan of crafting, so I dabble in leatherworking, sculpture, woodcarving, and mixed media art. I practiced multiple styles of martial arts for years until an injury made it challenging. A Ranger/Druid multiclass at heart, I love plants and gardening, and am currently studying herbal medicine/magical correspondences, foraging, and archery.
What is one thing you think defines a (nearly) perfect TTRPG session?
For me, it'd be a ton of focused RP, a bit of drama, not necessarily a fight? But definitely some shenanigans.
What childhood cartoon would you like to play as a TTRPG?
I would love to play X-Men: The Animated Series from the 90's!
What do you think is absolutely essential in creating a safe space for all in a TTRPG game?
Letting everyone at the table know if there's something you want to avoid or any subjects that are off limits. Clear communication is key! <3
Thanks, Lauren!