It's time for another Tales from the Tavern interview with Devon Chulick! Devon is the cofounder of StartPlaying, the largest platform for finding tabletop games, groups and Game Masters. They feature everything from Dungeons & Dragons, Blades in the Dark, Call of Cthulhu, Monster of the Week, Alice is Missing, Pathfinder, and more! He's also the creator of Total Party Chill, a Dungeons & Dragons/TTRPG content studio located in San Francisco.
You can find him on twitter at @devonchulick, @startplaying, or @ttlprtychll
Let's see what Devon has to say about his TTRPG experiences
What was the first TTRPG you played?
I am not 100% sure what it is called, but it was a series of Choose Your own Adventure books that had a dice rolling component. When I was young (1st grade or something) my mother read the book and then I would get to roll and choose. One of my earliest memories with reading and games.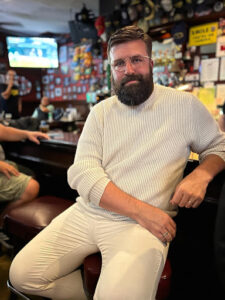 What is your favorite(s) TV Show or Movie?
Josie and the Pusscats, Mulan, Children of Men, Brick for movies. For TV, it's harder. I don't like rewatching media for the most part. I watch it once, and then usually only revisit it if I am watching it with someone who hasn't seen it before. There is literally too much good television on these days. Severance, Walking Dead, the marvel and star wars shows. Any Star Trek. Peacemaker, Our Flag Means Death, What we do in the Shadows. I also have a soft spot for sitcoms. The list goes on. 
Describe a favorite scenario you ran in a TTRPG
I ran a game in front of an audience at a con. I had all of these components that created dramatic irony with the players and audience. Lots of tactite puzzles and audience participation. It was a lot of fun.
What is your favorite game time snack?
Pizza, always.
What do you think is absolutely essential in creating a safe space for all in a TTRPG game?
Communication. 99% of problems at tables can be fixed with good communication. Safety tools also make that a lot easier. They're guidelines and framework for communication.
Something else you'd like us to know about you:
I really like playing volleyball.
Thanks, Devon!