The tabletop roleplaying community is full of incredible people – game designers, artists, players and GMs/DMs, and so many more. When we have the opportunity to get a lot of them together in one location, it's sure to be a lot of fun!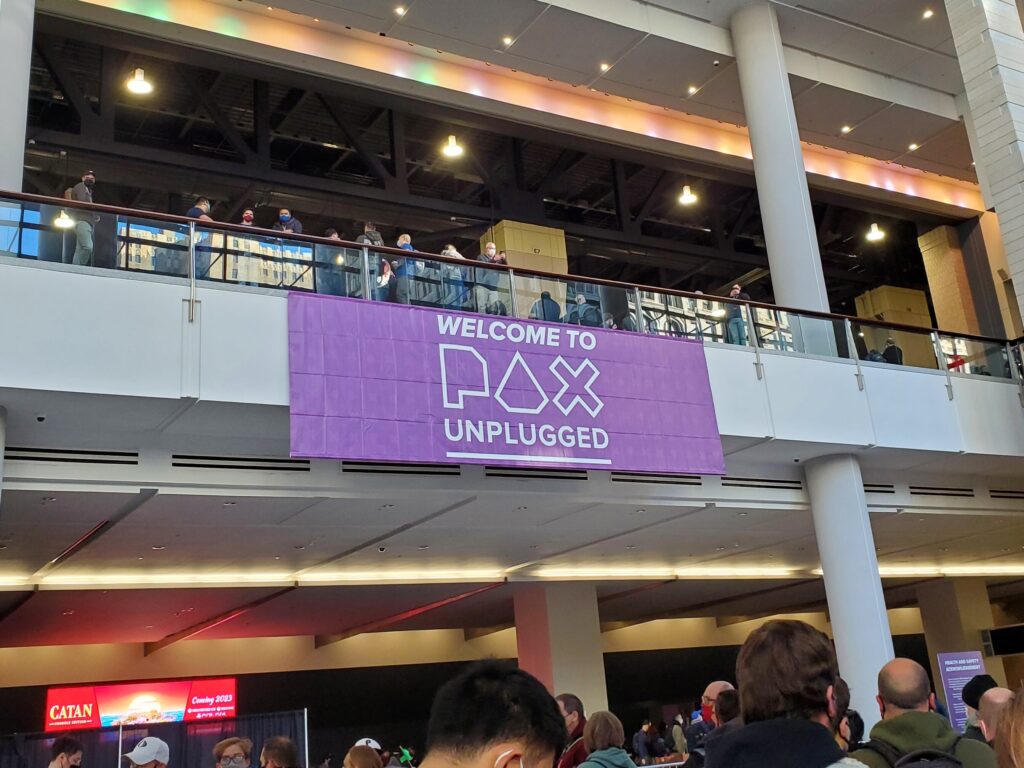 PAX Unplugged is a gaming convention that focuses solely on all kinds of tabletop gaming – from board games to card games like Magic The Gathering and Pokemon to Tabletop RPGs like Dungeons & Dragons and Pathfinder. The rest of the PAX expos are video and tabletop gaming related, so there is a lot more technology and normally several large name video game developers along with lots of smaller and indie content on the expo hall floor.
PAXU, as it's commonly called, was held in the Philadelphia Convention Center, and took up a large expo hall space for free-play, tournaments, and exhibitors of all kinds of various tabletop games.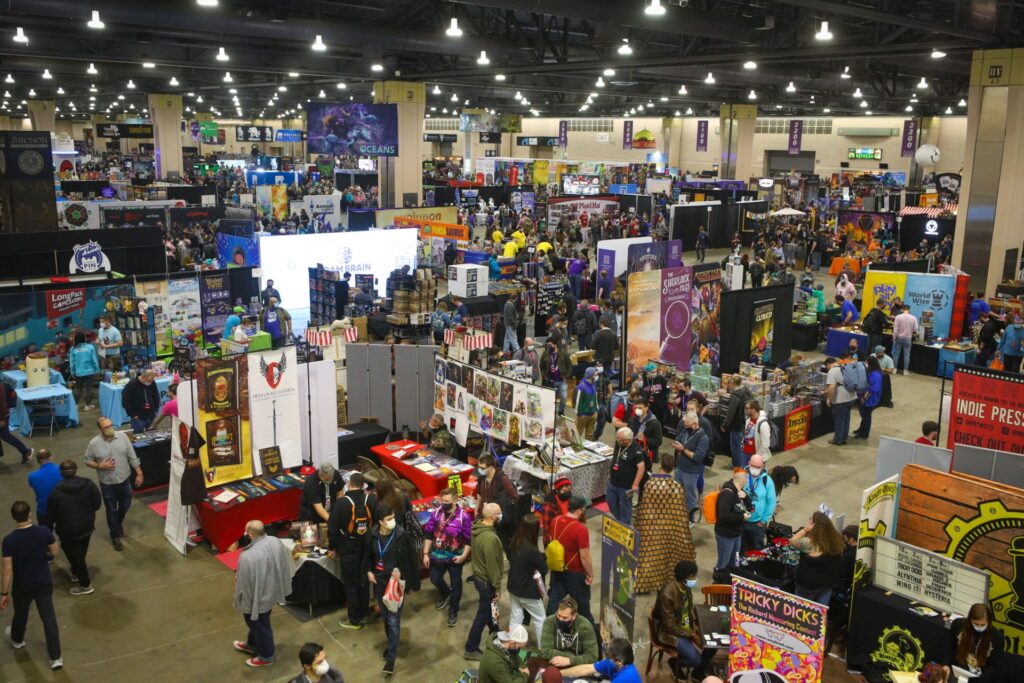 There were a large variety of tabletop games to check out – including card games like Pokemon and Magic The Gathering, lots and lots of board games, and a variety of TTRPGs from all size publishers, from Wizards of the Coast to indie writers.
There were some exhibitors attendees would have expected to see with large displays, such as Wizards of the Coast and Magic The Gathering, but instead, they had a fairly small presence: WotC had some tables set up near the TTRPG play areas, and MTG had a presence near the Freeplay section of the exhibit hall. Other notable publishers we expected to see weren't there at all, outside of some representation of their systems played in the TTRPG area.
The convention center itself is nice, but has somewhat of a confusing layout, which was made worse by the fact that there was another convention happening in the same center at the same time. It caused some challenges navigating the building on the first day, because some areas would be considered convention exits, and attendees would have to re-enter through the lines to get in. It also made the food court in the building hard to access because of both leaving the convention area, and the fact that it was completely packed. Thankfully, there were a lot of food options around the convention center, and some small food options available in the exhibition hall. Soft pretzel wrapped hot dogs? Surprisingly tasty.
One overheard statement from previous PAXU attendees was that having the second convention in the building also was part of the cause of the small number of panels. There were really only three rooms available for panels to happen. One other thing was that many of the panels seemed to have several of the same guests appearing. While some of the topics were interesting, it would have been really great to have a wider variety of panelists, and a bigger choice of panels to attend each day. Between the Shadomain staff, we found approximately six panels in total that we attended. While they were all good, we would have liked to have more to choose from.
One great thing about the size of the play spaces available was that it gave friends and acquaintances plenty of space to meet up and play games. PAXU isn't just about TTRPGs, but all kinds of board, card, and other tabletop games. It wasn't uncommon to see people carrying large backpacks filled with board games, and to hear about games happening in the convention center until the early hours of the morning.
The convention spanned over three levels. The uppermost area included the ballrooms where panel presentations and announcements took place. The lower level offered dedicated spaces for role playing games, puzzles (like an escape room), the PAX Together Intersection celebrating diversity in gaming, the Take This AFK room, and "how to play" rooms.
The bulk of the convention took place on the second floor. It included the exhibit hall, a paint-and-take area, tournament zones, tables filled with terrain for miniatures games and open gaming space. The exhibit hall has set hours (10-6 daily), but the rest of the places were open much longer. Some things required advanced registration while others were available to walk-up and participate.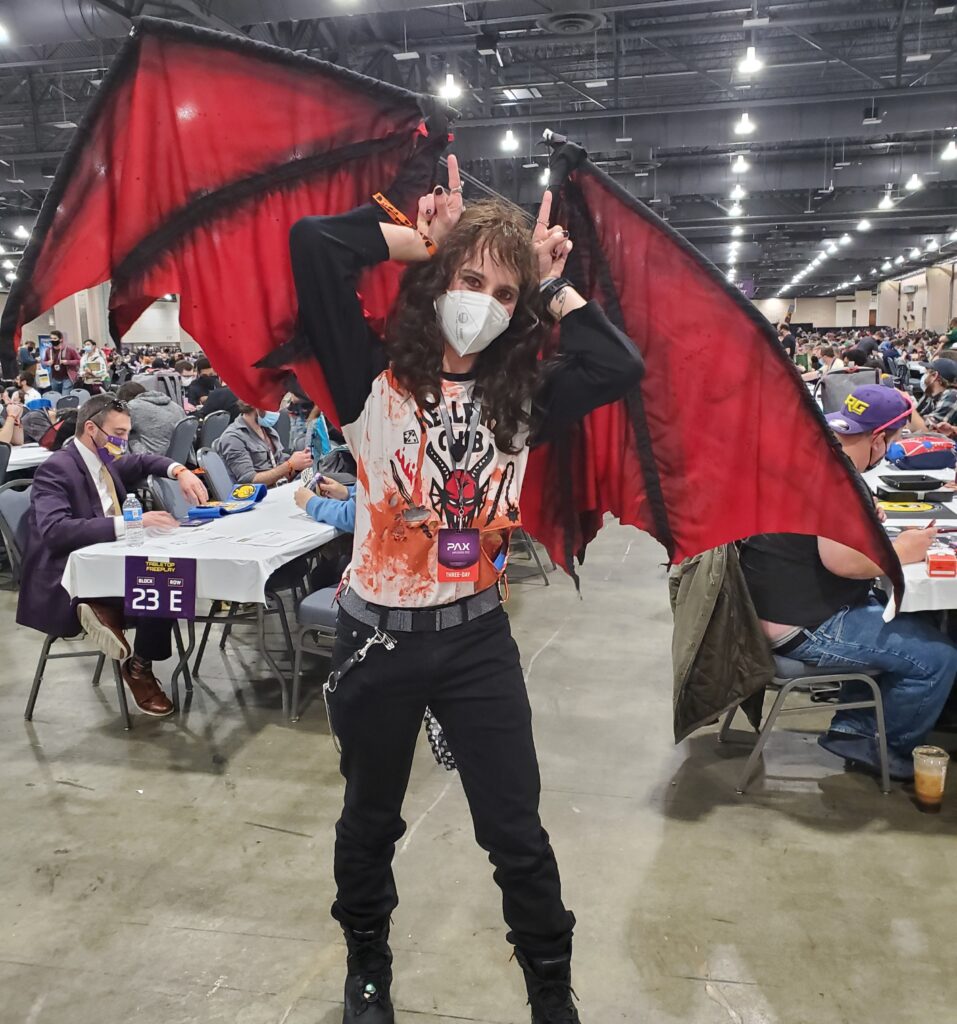 Cosplay wasn't a large part of PAXU, though there were several cosplays that could be picked out among the crowds. The overall feel of this convention was very different from the feel of PAX East. It felt there was a larger focus on seeing people and connecting with others than there was on showcasing cosplays or seeing big name creators.
On top of playing and checking out games, there were photo ops throughout the hall, a "wild goose chase" where you could collect stamps and cards from participating vendors and earn free pins. If attendees finished the whole thing, not only did they receive prizes, but you also ended up with an entire game consisting of the loose cards collected along the way.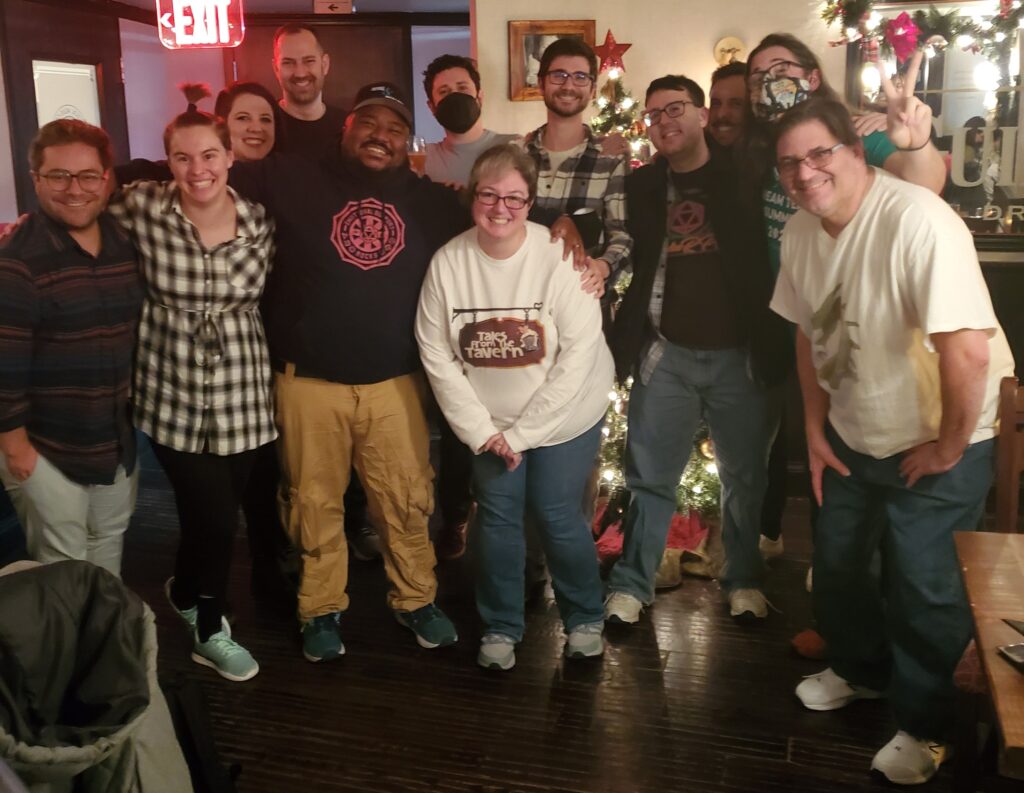 Overall, the Shadomain Staff had a great time exploring the exhibit hall and connecting with friends in person. Did you attend PAXU? What did you think about it? Leave us a comment and tell us your review of the event!